Seasons run mid-June through late October
10am–1pm • Pearl Street • West Acton



The Acton-Boxborough Farmers Market is a producer-only farmers market that operates from mid-June through late October on Pearl Street in West Acton. Its focus is making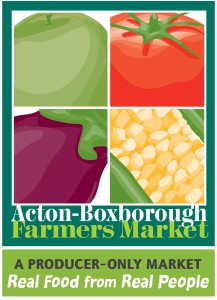 fresh, whole, organically or sustainably grown foods available to our communities; it also works to strengthen the networks that support local/regional food production.
The ABFM happily accepts SNAP (Supplemental Nutrition Assistance Program) benefits for all allowable items; ask at the ABFM stall about the SNAP "matching" program.
The mission of the Acton-Boxborough Farmers Market is to showcase local sustainable agriculture and promote organic practices; to educate the public on food and agriculture topics; to provide for direct, informed relationships between farmers and consumers; and to benefit local farmers and the local economy, as well as public health, community vitality, and regional environmental and economic sustainability.
Learn more at www.ABFarmersMarket.org.
ABFM: Real Food from Real People!