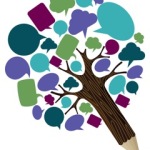 All Green Acton projects have an educational goal in addition to their more-immediate purposes. We are always looking to inspire others to learn about how people (and animals and plants and everything else) are all parts of an interconnected system on Earth, and about how our actions can help or hurt the healthy functioning of the systems on which we depend.
Some of our activities (such as the Energy Fair) are almost entirely focused on education. Sometimes — as in our sponsorship of the A-B PIP STEM / Discover STEM event — we seek to support and encourage environmental education in Acton, especially in the Acton-Boxborough Regional School District schools. We have also worked with students involved with Siemens Challenge teams, ABRHS Envirothon and Resource Force teams, and student composting and "solid waste" initiatives. Green Acton sometimes works with the Town of Acton, and other local collaborators, to help educate the public on issues that affect the integrity of environmental and human health.
Candidates' Night
Green Acton has often hosted a GA Candidates' Night — an opportunity for voters to hear from candidates for local elective office (e.g., Selectman, School Board member, Acton Water District Water Commissioner, Acton Memorial Library Trustee) on environmentally related issues, shortly before local elections. GA Candidates' Night is typically held in mid-March.