The Green Acton Water Committee and the Acton-area League of Women Voters are sponsoring an educational panel discussion about 1,4-Dioxane in Acton's water supply.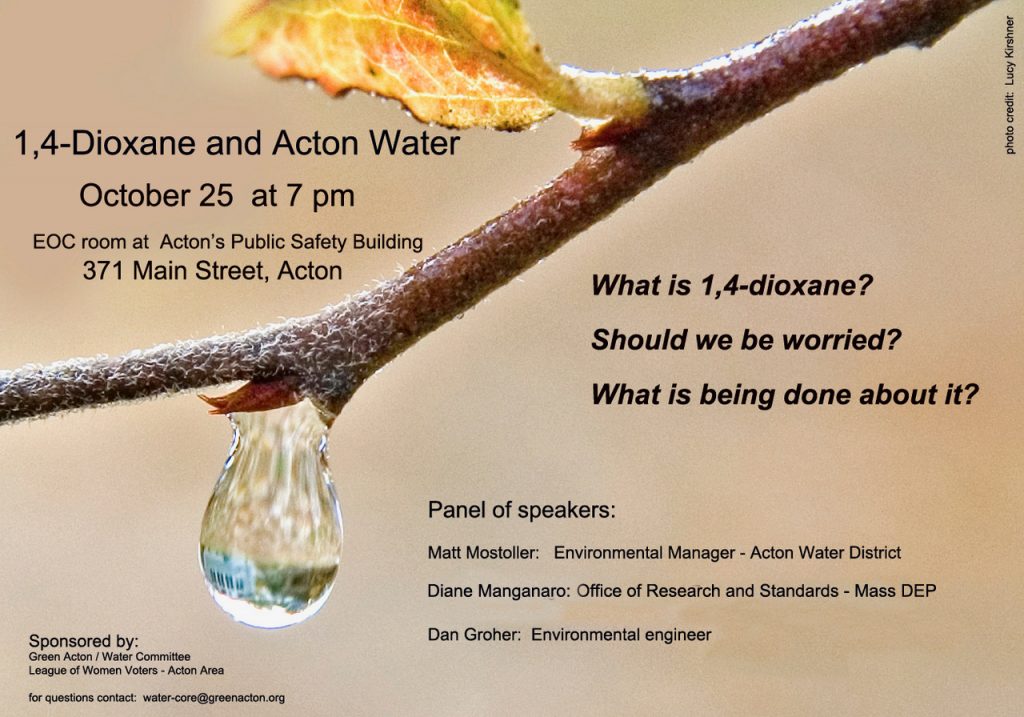 1,4-Dioxane is a likely human carcinogen that is leaching into Acton's groundwaters from the Nuclear Metals Inc. Superfund site and the W.R. Grace Superfund site. The contaminant has reached several of the Acton Water District public water supply wells. However, by blending water from the affected wells with water from other wells, the district has kept the level of 1,4-Dioxane in the public water supply consistently below the Massachusetts Department of Environmental Protection's (MassDEP's) guidance level of 0.3 parts per billion. In the meantime, the federal Superfund program has begun an intervention to capture and divert some of the dioxane before even more of it can reach our water wells.
Acton's 1,4-Dioxane situation is complicated. Bring your questions to a public panel discussion: Thursday, October 25, 7–9pm, Acton Public Safety Building, 371 Main Street, EOC room.
Three expert panelists will talk on various aspects of the situation, followed by lots of time for Q&A. Panelists and their topics are as follows:
Matt Mostoller,

Environmental Manager at the Acton Water District, will explain where 1,4-Dioxane comes from, how it travels through the groundwater and arrives at Acton's public water supply wells, and how much is found in our ground- and drinking water.

Diane Manganaro, Office of Research and Standards at MassDEP, will share what is known about the impact of 1,4-Dioxane on the human body, and explain how MassDEP sets guidelines for pollutants in drinking water.
Dan Groher, an environmental engineer, will speak about efforts being made to intercept, divert, and treat 1,4-Dioxane before it can get into water supply wells.
The discussion will be moderated by Green Acton Water Committee Chair and geoscientist Kim Kastens. The event will be recorded by Acton TV for viewing at a later time.
In addition, Green Acton has compiled information on 1,4-dioxane, both general and Acton-specific, which can be accessed here.