Dynegy, an electricity supply company, is the vetted supplier for the first two years of Acton Power Choice (APC) — the new municipal electricity bulk purchasing program that started in Fall 2017.
For any Acton electricity user who hasn't opted out or chosen an alternate electricity supplier, Dynegy will become the electricity supplier listed on your Eversource electricity bill.
APC offers two choices: the automatic enrollment in Acton Power Choice Standard, and the "opt up" choice of Acton Power Choice GREEN. You can read more about Acton Power Choice at ActonPowerChoice.com.
Green Acton is especially excited about the APC GREEN option, by which any Acton electricity user can choose 100% renewably sourced, New England energy for only 2 cents more per kWh than the APC standard pricing. Green Acton strongly encourages those who can to "opt up" to APC GREEN. Opt up by calling 1.866.220.5696 with your Eversource account number at the ready.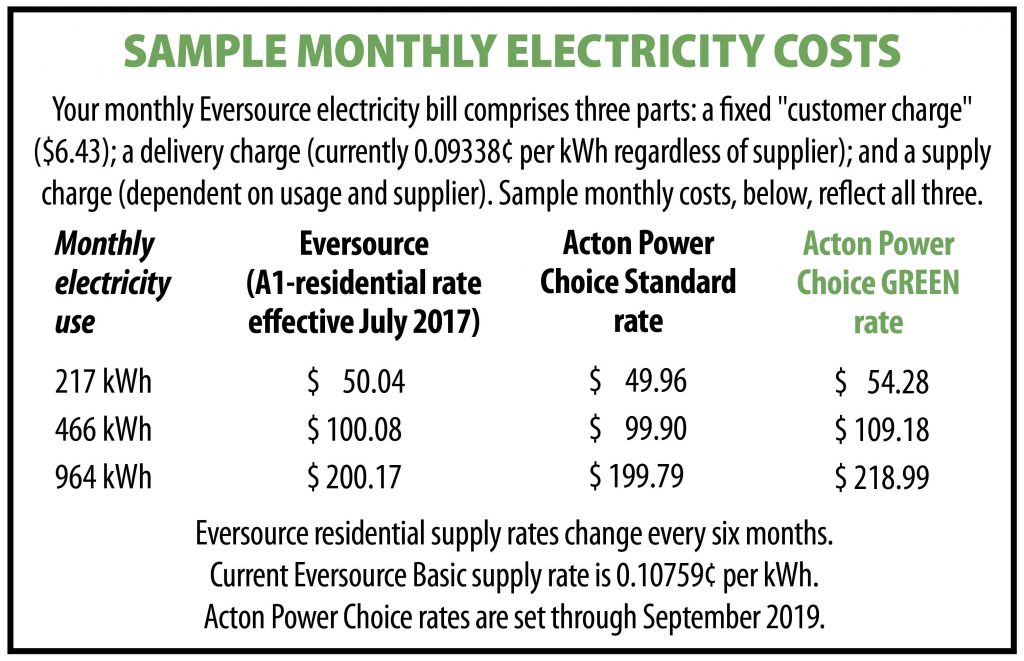 This chart, which offers some sample comparative costs, may be helpful; APC prices are accurate through September 2019, and Eversource prices until January 2018.

Read background information about Acton Power Choice here.