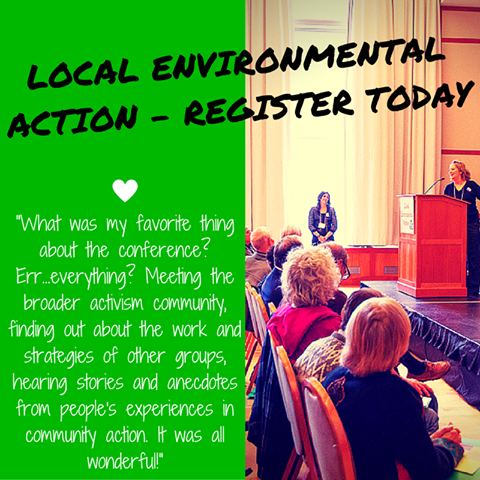 30th Annual Local Environmental Action conference: Sunday, March 5th at Northeastern University, Boston, MA
Great way to connect with other towns and see what they are working on, and gain exposure to new ideas and information on climate / clean energy issues

Nearly 20 workshops that cover a range of issues and skills – from the future of energy in New England, to organizing in the age of Trump, to the health impacts of fracked gas well-heads to your kitchen stove

Recognize our many victories over the year and be inspired to go back and continue the fight to protect the health and safety of our communities, our environment, and our climate
KEYNOTE SPEAKERS:
Kandi Mossett
Kandi Mossett

is a powerful Indigenous leader and environmental justice hero on the frontlines of the fight to stop the Dakota Access Pipeline. A member of the Mandan, Hidatsa, and Arikara Nation, Kandi is the Indigenous Environmental Network's Extreme Energy & Just Transition Campaign Coordinator, leading the fight to raise awareness about the environmentally & socially devastating effects of hydraulic fracturing on tribal lands. We're so honored to have her joining us to share lessons from NoDAPL and her international and national climate advocacy work.

Lois Gibbs

Lois Gibbs

is known by many as the mother of the anti-toxics movement and the federal Superfund program. Lois was a housewife living in Niagara Falls, New York in 1978 when she learned that her neighborhood, Love Canal, was built on top of 21,000 tons of hazardous chemical waste. After successfully organizing her neighbors to win the evacuation and cleanup of Love Canal, Lois went on to found the Center for Health, Environment & Justice and has helped communities across the country fight to protect themselves from toxic exposures. Most recently, Lois has been working on the ground in Flint, Michigan.
Register online here and read up on the conference agenda information here.  Breakfast and lunch are included in all tickets.  Cohosted by the Massachusetts Climate Action Network and the Toxics Action Center.