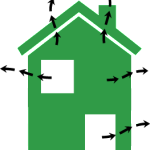 The Acton Energy Challenge was a campaign run by Green Acton, the Town of Acton, AB PIP STEM, and Sagewell, Inc. in 2012. Sagewell continues to offer this service at https://www.sagewell.com/
Here's an archive of the campaign.
Reducing Home Energy Leaks
Saving Money
Every house leaks energy. But where, and how much? That's your money radiating away from your home. Green Acton, the Town of Acton and AB PIP STEM teamed with Sagewell, Inc. to offer a FREE Energy Analysis to Acton homeowners.
Sagewell uses thermal imaging technology that reveals energy leaks in houses. Sign-up is simple; the test is non-intrusive; and homeowners receive a confidential password-protected analysis report. Residents may also choose to receive recommendations from local contractors, who can solve identified problems, and additional audit services, such as, rebates and incentives from the state and utility companies. Households are under no obligation to make improvements. Read the Great Acton Energy Challenge Poster.
Contact
If you'd like more information, please send to email to: challenge-questions@greenacton.org.
FAQs
Do I have to pay for the imaging?
No, the imaging and the analysis are free for Acton residents (and Acton taxpayers).
Do I have to be home for the imaging?
No, Sagewell's images are a drive-by operation. They image the front and sides of your house that face the street.
Can Sagewell definitely scan my house?
Sagewell cannot image houses that are more than 100 feet from a public road, houses with vegetation that screens most of the house from the road, and houses that are part of a 4-unit or larger complex. If you are on a private road and want your house imaged and can give them permission to drive on the private road, contact sagewell at support@sagewell.com and let them know.
What if Sagewell cannot scan my house?
Sign up for a Sagewell scan, AND sign up for one of the free energy audits (by Mass Save). Some homes audited by Mass Save are eligible for complete thermal imaging with a portable scanner that can see all sides of your house. The premium in-home energy assessment (prices start at $350) also include thermal imaging.
The Great Acton Energy Challenge
Thank you to the 400+ households that signed up.
How Do I Sign Up?
Go to sagewell.com/
Fill in your address in the light blue box that says Find your home or building.
Click the Find savings now button. A map will appear with your house.
Click the HERE button to request a survey of the area.
Fill in the form, and click the Request your free report button.
How Does it Work?
Sagewell technicians will drive by your house in March and take a thermal image. No appointments are necessary and no one will enter your home. After Sagewell completes the analysis of your home, they will let you know how to access the image and a confidential, password-protected report. The drive-by and the report are free. This report will show a color-coded image of the energy leaks in your house. See a sample report.
Before or after seeing the analysis report, residents can choose to receive recommendations from Massachusetts contractors who can solve identified problems. Residents may also receive additional audit services, such as rebates and incentives from the state and utility companies, or an extended premium audit at a competitive price. Households are under no obligation to make improvements. This is an opportunity for Acton residents to lower energy costs, increase property values, and support Massachusetts contractors.
Who is Sagewell?
Sagewell is a local Massachusetts energy efficiency company that measures heat loss by collecting thermal images. According to the Department of Energy, building envelopes (exterior walls, doors, roofs, chimneys, foundations and sills) are the single largest source of energy loss in residential buildings. Sagewell's Energy Efficiency Analysis Report quickly identifies problem areas in your building envelope and recommends cost-effective energy efficiency retrofit solutions. It is the first step toward a more energy efficient home.
What is the Next Step?
Residents now have until March 31 to sign up, if they want to included in the first round of analysis. Households can sign up any time up until April 20, but there may be delays in creating the images and the analysis. We recommend you sign up as soon as possible.
Notes about privacy: Sagewell technology cannot see into your home. Vegetation between the road and the house blocks heat coming from the house, and, therefore Sagewell will be unable to measure heat losses from the part of the house that is shielded by vegetation. All measurements are taken from public streets from a vehicle driving past homes at normal street driving speeds; Sagewell does not drive on private driveways. Only the homeowner is allowed to register and view the property report of that home. Sagewell does not sell e-mail addresses or phone numbers. Any communication will be from Sagewell and e-mails from Sagewell can be stopped at any time on request. No company other than Sagewell will contact homeowners unless the homeowner has specifically requested contact from another company. You can remove yourself from any communications from Sagewell at any time, or get any other questions answered by contacting support@sagewell.com