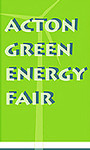 Green Acton and Acton-Boxborough PIP were proud to host the first Acton Green Energy Fair on Sunday, May 17, 2009 from 1:30-5:00pm at R.J. Grey Jr High, 11 Charter Road, Acton, MA.
We hope you enjoyed the hands-on exhibits about solar power, wind power, LED lightbulbs and biodiesel. Did you see the car that runs on grease or talk with a solar power installer? We hope you learned how an infrared camera can see energy being wasted in your house and how to shrink your carbon footprint and cut your energy bills!
Touring the Solar Panel Array at Leary Field concession stand, listening to our Keynote Speaker, Dr. Sajed Kamal, renewable energy expert, and watching the NSTAR Energy Show added up to a really fun afternoon.
Read the Beacon Article, Acton Green Energy Fair focuses on improving environment, watch the You Tube video, and see David's fabulous photos.
Highlights
| | |
| --- | --- |
| 1:30-5:00 PM | Hands-on Exhibits, Business Demonstrations, Solar Panel Tours |
| 1:45 PM | Low Carbon Diet Workshop for Homeowners |
| 2:30 PM | Keynote Speaker Dr. Sajed Kamal, Renewable Energy Expert (Grade 5 to adult) |
| 4:00 PM | NSTAR Energy Magic Show, Limited Seating (Grade K to 4) |
Features
Solar Photovoltaics • Grease-powered Cars • Electric Cars & Bicycles • Wind Power • Solar Hot Water • Geothermal Heating • Biodiesel • Solar Cookers • Biogas Plants •Hydroelectric Generators • Solar Thermal Systems • Energy Audits • Green Home Improvements • Insulation • Electric Cars • Solar Racers & Robots • Infrared Camera •LED Lightbulbs • LEED for Homes • Solar Ovens • Trihybrid • Solar Panel, Wind Power and Geothermal Install
Sponsors
Special thanks to all of our sponsors.
Platinum Sponsors:




Gold Sponsors:
Resources